If you are excited about being surprised by a totally random Cosmic Mug, then this listing is for you, when available. All that we ask is that you are okay with the fact that these mugs need to be randomly chosen and vary in sizes and shapes between about 14 to about 20 ounces each. We can also offer Free Shipping to all customers in the United States on all Cosmic Mugs if you decide to purchase one or more of these mugs.
Cosmic Mugs are inspired by a firestorm of nebula gases captured by NASA's Hubble Space Telescope. I think of these mugs as abstract paintings. Real images of deep space galaxy cloud clusters and nebula inspire my abstract glaze paintings over an "Oil Spot Black" base glaze, meant to reference the night sky.
Cosmic Mugs are:
Durable: Stoneware pottery is very hard and meant to last a lifetime.
Functional: 100% non-toxic, dishwasher and microwave safe.
Handcrafted: Joel Cherrico crafts each pot from a lump of Stoneware clay on a pottery wheel. He creates consistent shapes that hold roughly a medium cup of coffee, about 14-20 ounces, since every Cosmic Mug is unique.
Complex: Every mug is brushed with up to six different glaze colors.
Earthen: Raw iron, copper and cobalt are harvested from the earth & fired in a kiln to 2400 degrees F to seal colors with silica glaze for non-toxic, food-safe surfaces.
One of a Kind: Each firing results in glazes that can never be duplicated exactly.
Learn More
Read about this "firestorm of raw stellar creation" that inspires my pottery glaze chemistry: HubbleSite.org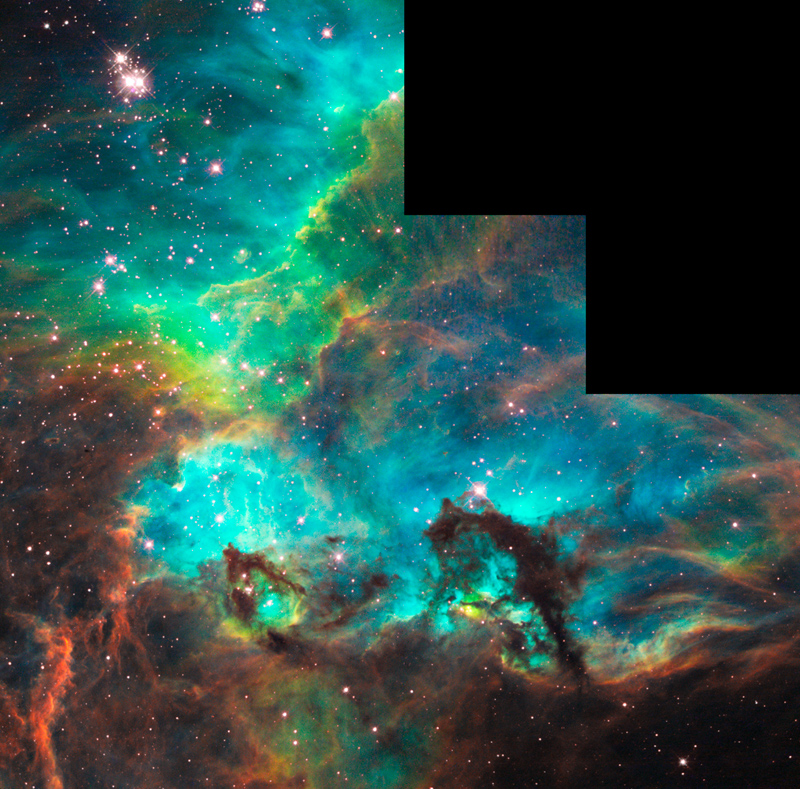 Shipping Cost:
Calculated at Checkout
This is yet another beautiful piece of art I have bought from Cherrico Pottery. I am absolutely in love with my mug. I drink everything out of it, hot or cold! I can't wait until I can buy a 3rd!
I was not disappointed with my purchase. I will reorder in the future.
These spiral cups are amazing! I have a few perfect ones and a few flawed ones. Both which I hand wash and put into the dish washer and have no issues. The color are wonderful to see! Joel makes beautiful works of art!
I love my mug! The colors, construction, quality; truly a work of art! Thank you! This will not be my last purchase!
LOVE IT. If I could, I'd have a whole cupboard of these. I absolutely LOVE them. This one supposedly has a blemish... I don't see it. I think it's as beautiful and unique as the others I've purchased at full price. Thanks for making these available.
I ordered a bug and cup. I was so excited just like a little kid on Christmas morning. The feel of the mug was just as I thought it would be. I'm very happy with both, but the mug is by far my favorite.
This mug was a perched for the love of the art. For someone like my self I'm on a budget and buying a random mug was a great choice. The mug I received is beautiful and I use it every day and others in my office are jealous because of the attention to detail that was put into this pice of art. I know I'm the months to come otheres will be buying a mug or 2. My next purchase will be a moon mug. Thank you A Customer for life
These cups are out of this world:vibrant colors, beautiful workmanship and comfy handle. The cups were nicely packaged, perfect for a gift
I couldn't resist the offer for a random Cosmic Mug at a good price. It's the perfect size and looks great. Having had a little experience throwing mugs, I can appreciate the work that goes into these. Great packaging too!
I could not have imagined a better gift. The mug was flawless. Thank you so much for your contribution to the Arts. It invigorates the human spirit.